Japanese Cosmetic store "Yoroshi Cosmetics" Opens in Asakusa - Aims to spread the appeal of Japanese Cosmetics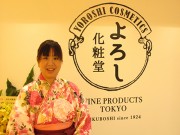 store manager Ms.Sasaki
Enlarge this image
Enlarge this map
On June 22, Japanese cosmetics store "Yoroshi Cosmetics" opened its doors close to Tsukuba Express Asakusa station. The store caters to those with delicate skin, assuring them that they can use their products with ease and satisfaction. To achieve this, materials sourced locally are used as much as possible to make high-quality products. The store's name "Yoroshi" is derived from the old Japanese term of "making a high-quality good", encompassing this value into their products. The establishment of the store in 1924 is accompanied by a long tradition and expertise in Haircare, skincare, bodycare, etc. It is noted that the firm is a pioneer for peeling gel.

The marketing department stresses that "we would like you to try the facial soap". The soap reacts to the water, which creates an effect similar to clean onsen water exfoliating the face. Smells and senses are replicated as well. This is all achieved while using "30~70% less compounds" therefore making it more friendly to delicate skin.

The store also offers tea that can be consumed once utilised, named "edible tea". While these were previously served in store, high demand inquiring where it could be purchased led to it being offered for sale in the store. It is being hoped that popularity of Japanese cosmetics would be facilitated through our efforts and products.

Products include: Hand cream, Lip cream, Bath cream (from 864 yen), Facial wash, edible tea (1,080 yen), Facial clear gel (1,512 yen) Hand cream (1,620 yen), Multi cream (2,160 yen), among others.